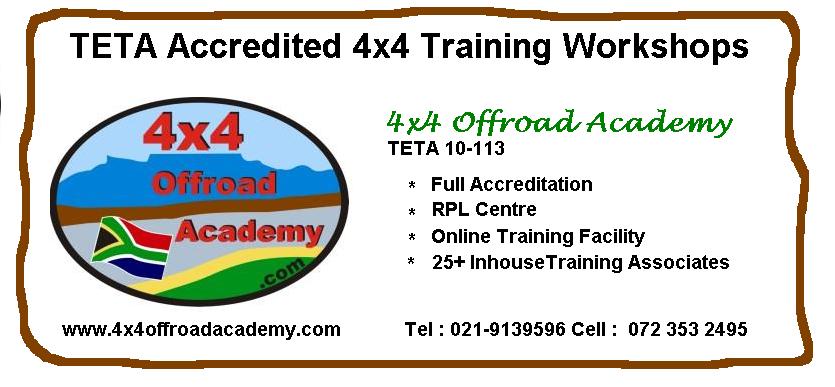 Press "Ctrl+F5" to refresh the page All links open in a new window Close current window to return to the HOME page
GENERAL COURSE INFORMATION

REQUIREMENTS
All candidates must have a valid driver's license and ID or Passport.

WHAT TO BRING WITH ON THE FIRST DAY - THEORY
Pen - Black Ink
Writing Pad
2 x certified copies of ID
2 x certified copies of Driver's License
2 x passport size photos

WHAT TO BRING WITH ON THE PRACTICAL DAYS
Protection against the weather - sunscreen, rain coat for rainy days, closed toe and heel shoes, sunglasses
1.5 liter drinking water
4x4 Vehicle & Fuel
if available : tyre air compressor and pressure gauge
If available : all of the 4x4 recovery equipment you may have
Gumboots and a towel.


VENUE THEORY
Jameson Ave 4, Door De Kraal, Bellville, Western Cape
(unless otherwise arranged)

VENUES - PRACTICAL
Melkbos 4x4
Welgelegen 4x4
Atlantis Dunes
Wupperthal Johnnies Poort

TRAINING HOURS
Weekdays : 9:00 - 16:00
Evenings : 7:00 - 10:00

LUNCH
Lunch is provided between 12:00 and 13:00 and included in the price.