Press "Ctrl+F5" to Refresh page
All links open in a new window

Get your Basic 4x4 course done today. The price offer above of R750.00 is limited, and not because of any marketing strategy.
TETA has indicated that their current compulsary services (external moderation, accreditation, annual monitoring ,certification plus a fee per learner) to Training Providers, which is currently free, will soon be levied at a substantial fee by TETA. The proposed amounts are shocking and a steep increase in accredited training will be unavoidable. This increase will directly effect our current training fees when implemented.
INTRODUCTION TO OUR 'NEW' ONLINE 4X4 TRAINING PROGRAMME
4x4 Training : Knowledge and Skills
This is how our ONLINE TRAINING PROGRAMME works.
With ONLINE TRAINING you will be trained by software media and presentations on your computer with some interaction through the internet for downloads and submissions. You do not need to be online all the time - only when the ePOE Software prompts you to do so. We provide you with a link to download the TRAINING SOFTWARE we call 'ePOE' (electronic Portfolio of Evidence). The software will guide you STEP BY STEP on how to create and complete your PORT FOLIO OF EVIDENCE. Through the SOFTWARE , you will have a proper induction, your profile will be captured, possible barriers or disabilities will be determined, an assessment plan outlined and the appeal procedure will signed off, etc. Access to the training material will be online and you will receive the necessary guidance to use the system.
The actual self study material consists of a Workshop Manual, a 4x4 Off-road Manual, an Online Descriptive Photo Gallery and Training Video Clips.
After successfully completing a Questionnaire (results are immediately available with two chances to improve your score) you may book online at a suitable venue to practice and improve your skills with the support of a capable 4x4 trainer and to take the practical assessment. You may choose any scheduled date and venue closest to you. We are expanding, very soon more assessors and venues will be available to choose from. Before the actual assessment, there will be a pre-assessment meeting to discuss the plan and to answer any questions you may have. If found competent, you will be credited and receive a Certificate of Competence - one A4 wall certificate plus one laminated pocket size travel certificate.
Experienced Drivers and Accredited Basic 4x4 training.
The basic 4x4 training (US254135) is really basic. If you are an experienced 4x4 Driver you may find the basic training course tedious and time wasting. The OUTCOME BASED SYSTEM provides a route called RPL , recognition of Prior Learning for experienced drivers. Through this route you can get your Competency Certificate. The challenge you face is you have to prove through prior learning you have the relevant competency, which may be time consuming and difficult to prove, making the RPL process cumbersome and lengthy. The perfect solution to this problem, is to do the TRAINING ONLINE. For experienced drivers, ONLINE TRAINING is the easiest route to go. You can go through the learning material much quicker and at your own convenience and request assessment.
See the formal assessment not as a test, but as an opportunity to gain all the required credits for knowledge and skills you already have on the outcomes of the Off-road Unit Standard.


Enrol with us to do your RPL(Recognition of Prior Learning)
We have done all the footwork for RPL. We are just waiting for that promised approval letter from TETA.
Current status of the OFF_ROAD NORMS & STANDARDS
Unknown
Enrol immediately to book your place at the current price R750.00

You can enroll now to get your student number and to secure the current price, but the ONLINE TRAINING PROGRAMME kicks off 28 Jun 2012. Learners will receive the internet link in time. Price may changed without notice in the future, as it will be reviewed as soon as we learn more about this new system and process we need to adhere too.
Requirements for acceptance : Valid ID or Passport and Drivers Licence.
Enrol here
.
Current Assessment Venues are near the following places
We are expanding, very soon more venues to choose from.
Western Cape : Cape Town, Bellville, Langebaan, Melkbosstrand, Simonstad
Eastern Cape : Port Elizabeth, East London, Umtata, Grahamstown
Southern Cape : George
Northern Cape : Upington
Freestate and North West : Bloemfontein , Welkom
Gauteng : Pretoria, Johannesburg , Krugersdorp
KZN : Durban

Get your Basic 4x4 Training Online
Modern Technology makes Online Training possible and although the concept is already in use for a long time, it is new to the 4x4 Industry. Online Training should not be a problem for the larger 4x4 community as most of us are very active and familiar with Online Forums. Take on the challenge - get your DCC Online Now!
Benefits of ONLINE TRAINING over CLASSROOM TRAINING
(1) ONLINE TRAINING can be done in the comfort of your home.
(2) ONLINE TRAINING can be done at a time or place that is convenient for you.
(3) You determine your own learning PACE, not everyone's learning ability is the same.
(4) ONLINE TRAINING is ideal for the experienced 4x4 driver too avoid the lengthy compilation of the RPL Port Folio of Evidence.
(5) The ONLINE TRAINING PROGRAMME is cost effective and much greener - less printing.
(6) Quality Training is assured - the training is consistent, not dependant of instructor's mood or human error. All the topics are covered in a structured manner.
(7) You can repeat the training clips even after the course.
(8) The full training costs is payable in 2 easy installments. R500 at enrollment and the balance when ready to be assessed.
Try it ONLINE, even if you have done the DCC the traditional way.
Do your Basic 4x4 course for the correct reasons
For the first time in South Africa, there are SAQA(South African Qualification Authority) Standards for 4x4 off-road training. This should be a relief for beginners, contrary to the past where trainers had their own curriculum. It is not sure if the accredited training will be your passport to eco-sensitive areas. However, this should not be the only reason to get assessed. For beginners the first reason for training should be the correct use of their 4WD. For some a 4WD is their biggest asset, and it transports irreplaceable human life. The safety of you and your passengers is not negotiable - and proper 4WD training should point out possible dangers. Nature concerns are an important factor and the very reason for the DCC. 4x4 Training should teach you how to negotiate an obstacle with confidence without widening or damaging the existing track. The best line is not always the most earth friendly line. Also, incentives exist for competent drivers in that some insurance companies will grant discount on premiums.
Unfortunately, 4x4 training is only valuable for those who wants to learn something, it does not change bad behavior or attitude.
As with other ONLINE TRAINING, you can get the Basic 4x4 course for a fraction of the normal costs.
Compared to our classroom training, the cost of this ONLINE TRAINING is very affordable for obvious reasons. Less manpower and automated procedures, almost no printed documents, saving costs. Effectively, learners have AFFORDABLE TRAINING. The fee covers the Training Service Provider's administrative functions (Internal Moderation, Certification, Postage) and the Assessor assessment. Be assured, that QUALITY TRAINING is provided throughout the whole process, and under no circumstances is the QUALITY impaired by the affordable price being levied.
Costs : R750.00 , payable in two easy installments , excluding use of 4x4 track which may cost in the region of R150.00. R500.00 payable at enrollment, and the balance when you are ready to be assessed and booked for the practical training.
Special Offer to all AAWDC Clubs
The 4x4 Offroad Academy offers a long term solution for affordable basic 4x4 training to their club members
. AAWDC affiliated Clubs are invited to make use of this very special offer. Club committees/managers/owners may contact us for more information.
Email us
.
Our ONLINE TRAINING (and our CLASSROOM TRAINING ) offers much more than what is covered in the outcomes of the basic off-road Unit Standard.
There are shortcomings in the basic off-road unit standards requirements to consider it as a complete beginners course. The unit standard prescribes the learning outcomes , but not any methods. It uses the phrase 'best practices' which could be different methods for different training providers. It also does not cover topics like, veld etiquette, environmental conservation, recovery methods, torque vs power to mention a few. No single mention is made in the unit standard criteria of the very important function of the 'open differential' and how it limits the capability of a 4WD. If you does not understand how a differential works, you may struggle to fully understand the operational behaviour of the different 4WD configurations. The beginners course we present involves much more than just the basics as required by the Unit Standard. We believe that beginners should be equipped with a deeper and wider knowledge to make it easy gaining the practical skills and to go off-road with the necessary confidence without the need to have years and years of experience to learn it all. After the course we presented for beginners, it will not be too far fetched to considering a trip to the Congo in the rainy season - you will at least know what to do.
If you prefer normal classroom training...

No problem. We offered traditional 4x4 training long before we even thought of online training.
Enrol here for the Basic Course (US254135) or Advanced Course (Us254154)
If you feel you are really a 4x4 boffin and feel the basic 4x4 or advanced training will not add value...

Why not enrol for the Master 4x4 Driving Skills. It will be an experience of a lifetime. You will receive competency against both US254135 & US254154 as a minimum. Candidates must have at least 4 - 5 years of off-road experience to enrol for the master 4x4 Driving Skills.
Enrol here
NOTICE : The ONLINE TRAINING PROGRAMME has been postpone to 9 July 2012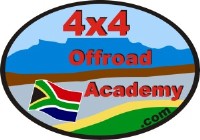 4x4 Offroad Academy
TETA Accredited 4x4 Off-road Training Provider
TETA 10 - 113 (full accreditation)
Our green and high standards make the difference
Head Office : PO Box 1515
Bellville 7535 , Western Cape